The Short Courses project is Hawza Online's most recent initiative. Offered to the community at large, these courses address pertinent topics that are not covered comprehensively by our Hawza Studies programme. The courses are live and interactive and are delivered by recognised specialists.
Our first short course was on Prophetic Medicine.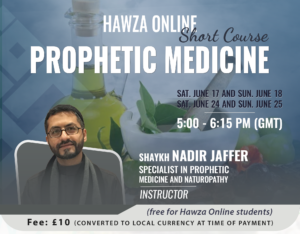 Prophetic Medicine: Course Content
• The role of spirituality in medicine
• Food and its effects on physical and spiritual health
• Foundations, authenticity, and methodology of Prophetic Medicine
• Modern vs Prophetic Medicine
• The human temperaments and their significance
• Exercise in Islam and its spiritual impact
• Cupping therapy (hijamah)
• Remedies to some common ailments
Watch this space, or follow us on social media, to find out about our next short course.